An exclusive membership to the JCM Private Client Group will provide you and your family with VIP access to the JCM family of businesses, unique value offerings and your personalized Private Client Group platform.
Our mission is simple: to provide you and your family with an experience that is based on exceptional deliverables and premium access to all of the JCM global offerings. This high touch concierge relationship and the meticulous attention to detail will afford you the luxuries of a family office. Our team of professionals has deep experience in exceptional client relationships and will be accessible to you on demand. So if you need information on your full suite of VIP benefits or you're just interested in enjoying one of our five-star partner venues, all it will take is one phone call.
JCM is excited to provide you with your new exclusive membership and the privileges that come with it – a welcome to the JCM family.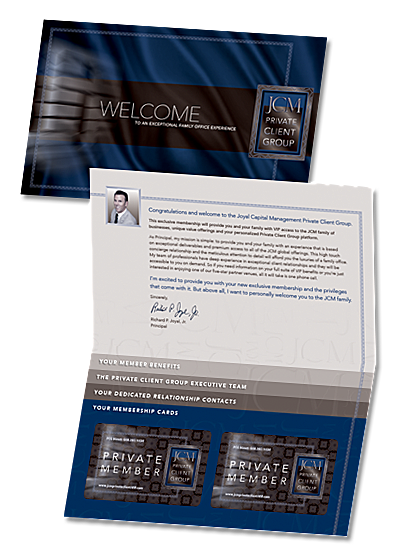 Members of the JCM Private Client Group enjoy the following concierge benefits:
VIP Access to:
JCM Principals
JCM Advisory Services
JCM Franchise Development
JCM Mortgage
JCM Trust Company
JCM Opportunity Fund
ONE Sotheby's International Realty, FL
Estate Plan Legal Counsel,
Boca Raton, FL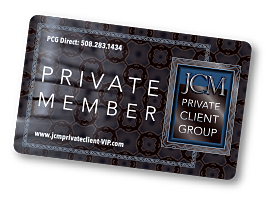 Each JCM Private Client Group member receives an exclusive membership card which affords them VIP status at the many JCM-affiliated venues listed here.
Partner Venue Access
Massachusetts
Strega, Boston, MA
Strega Prime, Woburn, MA
Strega Waterfront, Boston, MA
Strip by Strega, Boston, MA
Caffe Strega, Boston, MA
Nico, Boston, MA
Mare, Boston, MA
Quattro, Boston, MA
Connecticut
JCM Marina at American Wharf, CT
Florida
Mr. Chow, Miami Beach, FL
Milos, Miami Beach, FL
Trattoria Romana, Boca Raton, FL
New York Prime, Boca Raton, FL
Financial Services
Secure, Personalized Web-based PCG Platform
Aggregation, Mortgages, Investments, Credit Cards, Bank Accounts
Unlimited vault uploads
Personal Financial Statement on demand
Annual Review
Asset Protection Phase II
Total Plan Integration
Estate Services
Estate Plan Legal Design Analysis
Trust Administration
In-force Life Insurance Analysis
Estate Tax Analysis
Collaboration with Existing Advisors
Leveraged Gifting Strategies
Threshold Alerts
Dedicated Technician
Real Time Legacy Planning
Legal Services
Legal Consultation,
Draft, Prepare, Execute Legal Documents:
Pour Over Wills
Revocable Trusts
Irrevocable Trust
Health Care Proxy
Prepare/Delivery Crummy Notices
Power of Attorney
Family Dynasty Trust
Become a client
Becoming a client with us is easy. Simply fill out our information request form below and we will contact you soon or call 508.747.2237.